Tipperary GAA Scene
Previous
Next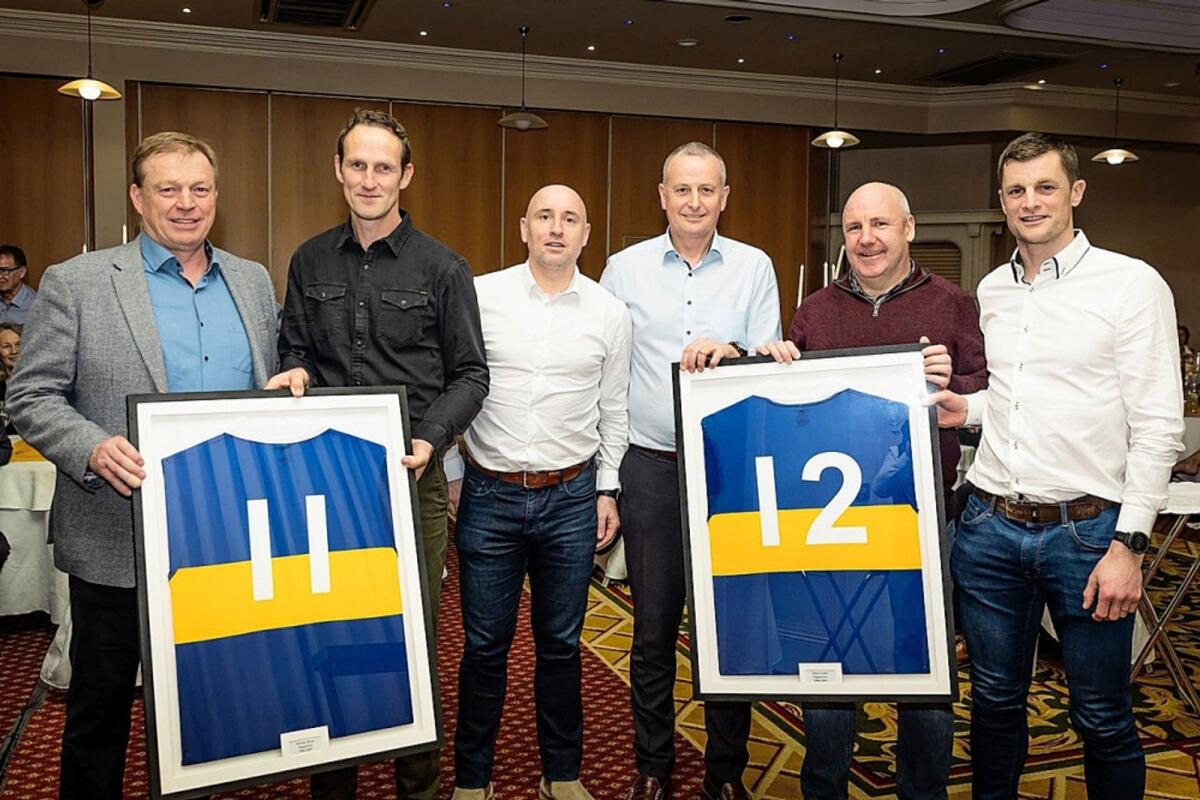 By Jonathan Cullen PRO
Munster Hurling League
Hard luck to the Tipperary senior hurlers who lost to Cork by the narrowest of margins in the Co-op Superstores Munster Hurling League final in Pairc Uí Rinn last Sunday.
While the silverware did not come our way, there was a lot to be positive about the teams performance as they now prepare for the upcoming Allianz League, which commences with a home game against Laois in FBD Semple Stadium on Saturday, February 4th at 5.00pm.
Allianz Football League
The Tipperary senior footballers will commence their Allianz League Division 3 campaign against Down this Saturday, January 28th in FBD Semple Stadium at 6.00pm.
The Tipperary senior footballers will play a further two games at home to Antrim and Offaly, with away trips to Cavan, Longford, Fermanagh and Westmeath in their last game which is scheduled to take place on Sunday, March 26th.
We wish the players and team management the very best of luck in what will be a very competitive league campaign.
Robbie Kiely Retirement
On Monday last, long standing Tipperary senior footballer Robbie Kiely announced his retirement from inter-county football.
Having won a Munster under 21 title in 2010 when Tipperary defeated Kerry, Robbie made his championship debut against Louth in 2011, from where he went on to play a pivotal role for his team and made a major contribution in every game he played. In 2020, Tipperary captured the Munster senior football title for the first time in 85 years when they defeated Cork and Robbie was to the fore in that game.
Tipperary GAA and the Tipperary Football Committee wish to thank Robbie for his outstanding commitment to the blue and gold jersey throughout both his underage and adult career, and wish him all the very best in his future life.
TUS Dr Harty Cup
The semi-finals of the TUS Harty Cup took place last weekend and resulted in both Cashel Community School and Thurles CBS qualifying for this year's final meaning that the final will be an all-Tipperary affair for the first time.
The final is scheduled to take place on the weekend of February 5th and the game is sure to attract a huge amount attention across the county and further afield.
Referee Recruitment 2023
Tipperary GAA is currently seeking applications from interested individuals to participate in the upcoming Referee Recruitment for Tipperary in 2023, to address the future refereeing needs within the Premier County.
With the growth in popularity of Gaelic Games, the demand for match officials is increasing. With over four-thousand games being played in our county on an annual basis, the role of the referee is a particularly important cog of the wheel to ensure all games take place.
However, we are seeing a drop in our current crop of officials, due to injury, work life balance and age-related factors. During the last GAA season in 2022, a number of games had to be cancelled due to no referee available. This was very unfair to the clubs affected in these fixtures. Out of the 71 clubs in Tipperary, we have thirteen clubs without a referee. This represents 18% which is not acceptable. Our target is that every club has an active referee. We are at a crisis in Tipperary in relation to the number of qualified active referees.
Basic Club Referee Training Courses are provided every year by trained Referee Tutors in County Tipperary. Last year we trained eighteen new recruits following a break of two years due to Covid.
The first two modules will be completed online by the student in the comfort of their own home, while the next two modules will be completed as a group in Thurles in early March. The course is developed in conjunction with Croke Park and supported through the Provincial Munster Referees Administrators.
The Training Course is now open to interested candidates to register.
Training as a Club Referee involves the following modules: Rules of Specification / The Play / Scores/ Powers and Duties of the Referee Technical Fouls / Set Play / Aggressive Fouls / Dissent / Referee's Report / Rules Test / Fitness Test
Modules are "classroom" based and involve online participation by the prospective referees. A timed Rules Test is centrally organised by Croke Park, which the participants complete "on-line", with a pass-mark set which must be achieved for successful progression.
An initial trial Fitness Test, i.e. a "BANGSBO or BEEP Test" will be organised at a later date, in order to familiarise new entrants with the levels required. A standard test will be used later in the year to monitor progression with a view to the achievement of a minimum standard required for qualification.
Following completion of the Training Course, the successful candidate is certified as qualified by Coiste Ríaracháin Réiteoirí Contae Tiobrad Árann as a Club Level Referee. Newly qualified Foundation Referees will be appointed to referee games as allocated by the Referees Administration Committee.
We are now seeking applications from interested individuals, who are considering taking up the role as Club Referee and applications must be submitted through their respective Club Secretary on the relevant Application Form which is available online on the Tipperary GAA website. Please note all applications must be accompanied by a cheque for €100, from the applicant's home club, which will be refunded after officiating at ten games.
Completed application forms accompanied by €100 cheque only should be forwarded to John Ryan (B) Tipperary Referees Administration Committee, Lár na Páirce, Thurles, Co. Tipperary.
All clubs who do not currently have a referee in their club are encouraged to trawl their membership for prospective candidates. Please contact your club secretary or any of the recruitment committee if you want to be included in this year's course.
Referee Recruitment Committee: John Ryan Chairperson (West Division) 0862417763, Philip Kelly Secretary (North Division) 0872863683, Michael Kennedy (South Division) 0879907661, Davy Ryan (West Division) 0863038882, Seamus Delaney (Mid Division) 0876396698, Alan Tierney (North Division) 0874159247.
Or from any member of the Referees Administration Committee; John Ryan (Chairperson), Philip Kelly (Secretary) Franny Quinn (Divisional Administrator West), Nicholas Moroney (Divisional Administrator South), Ciaran Timmons (Divisional Administrator North), Martin Bourke (Divisional Administrator Mid)
GAA Green Club Programme
Applications for Phase 2 of the GAA Green Club Programme are now being accepted and must be submitted by midnight on Sunday, January 29th, at greenclubs.gaa.ie
The Green Club Programme has been established to support GAA, LGFA and Camogie clubs in taking simple and effective sustainability action in their grounds and activities. The Programme is structured around the themes of Energy, Water, Waste, Biodiversity and Travel & Transport.
Phase 1 of the Green Club Programme ran from 2021 to 2023 with the participation of over 30 clubs from across Ireland. These trail-blazing Green Clubs established Green Teams, carried out club audits, and engaged in exciting sustainability partnerships and projects. The experience and input of the Phase 1 Green Clubs led to the development of the GAA's first-ever Green Club Toolkit which includes numerous case studies across each of the thematic areas. (https://learning.gaa.ie/greenclub/casestudies)
Phase 2 of the Programme will run for 2023 and 2024. Any Club that wishes to be recognised as a Green Club must apply through greenclubs.gaa.ie. Clubs will be required to follow a series of steps over the 2-year cycle in order to achieve Green Club status.
Additionally, 75 Clubs representing all Counties will be selected from those that apply to participate in a number of specific projects. These Clubs will be eligible for seed funding and extra support from our expert partners including the SEAI, Action Renewables, LAWPro, Irish Water, NI Water, the Regional Waste Management Offices, the National Biodiversity Data Centre, RSPB NI, the NTA, the RSA, Keep NI Beautiful and Sustainable NI.
Applications must be submitted by midnight on this Sunday, January 29th, by completing a short form and requires your club secretary's contact details to be included. The Green Clubs portal will automatically close at this time and incomplete applications cannot be accepted after this time.
Clubs who will be offered the programme will be notified by email and required to accept the offer of participation by Friday, February 10th. An orientation day for Phase 2 Clubs has been scheduled for Saturday, 4th March in Croke Park.
The GAA Green Club Programme is funded by the Dept of the Environment, Climate and Communications. For more information visit: www.gaa.ie/greenclub or email: greenclubs@gaa.ie.