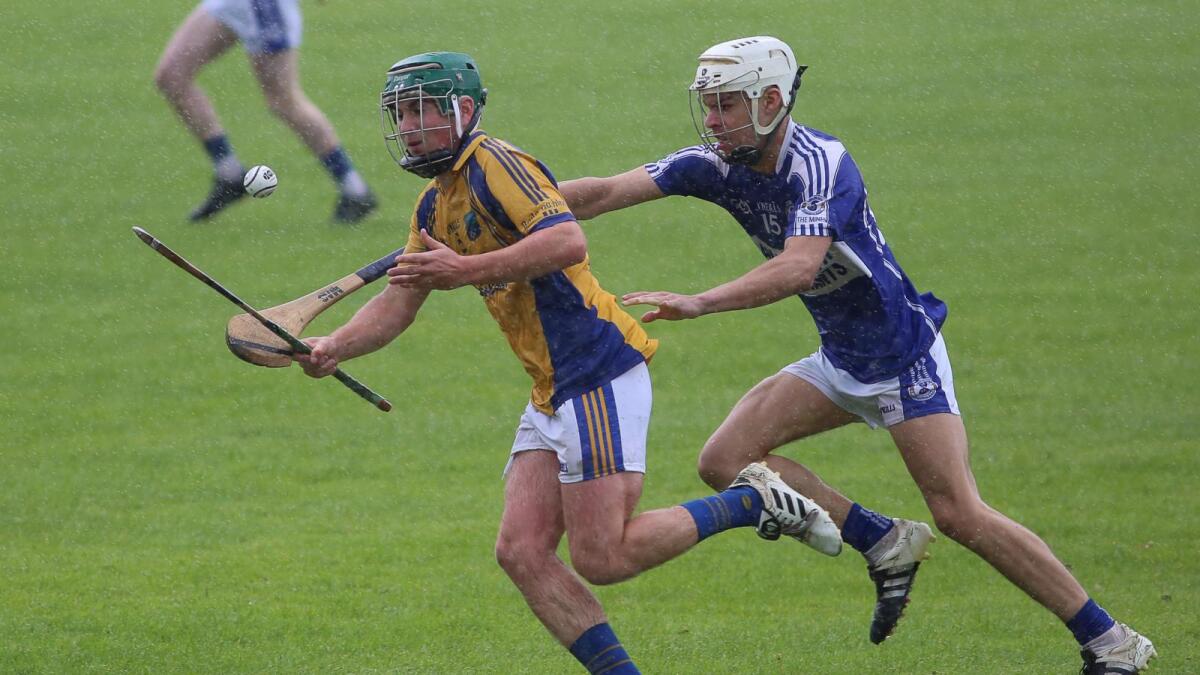 Superb Silvermines prevail in epic North Minor 'B' final

Silvermines 7-17
Ballinahinch/Templederry 5-13 (AET)

Report: James Hayden in Toomevara

MATCH DIGEST
Man of the Match: Conor McKelvey (Silvermines)
SCORERS - Silvermines: Conor McKelvey 3-13 (2-8 frees); Ger Leamy 1-2; Aaron Ryan 1-1; Alex Reynolds, Adam Steed 1-0 each; Michael Corcoran 0-1 free.
Ballinahinch/Templederry: Liam King 1-7 (0-7 frees); David Healy 2-0; Joey Kelly, Karl Kelly (1-0 pen, 0-1 free) 1-1 each; Mikey Ryan, Malachy, Mullaney, Harry Stapleton, Adam Ryan 0-1 each.

Silvermines were deservedly crowned North Tipperary Minor 'B' hurling champions in what truly proved a game for the ages following a herculean battle with Ballinahinch/Templederry on Saturday afternoon.

Games like this are rare to say the least but this was an out and out epic encounter. A clash that ebbed and flowed throughout, captivating to the extreme, an encounter for the aeons and without doubt a legendary final that will go down in the annals as one of the most memorable ever played at this grade.

Drama, suspense, goals galore, sublime points, heart, passion, determination and sheer will to win – this encounter had it all as both sides served up a gladiatorial battle worthy of any Hollywood blockbuster.

Last weekend saw the paradigms of power shift in minor hurling in North Tipperary with Silvermines' victory coupled with Ballina's victory in the minor 'A' final heralding an awakening amongst clubs that have been starved of success for so long at this grade and testament to the fantastic work at underage levels in both clubs.

Both Ballinahinch/Templederry and Silvermines had their standout performers but a personal haul of 3-13 from Tipperary minor Conor McKelvey was truly a monumental feat. The Silvermines captain embroidered the decider with 1-5 from play and a further 2-8 from placed balls in a performance worthy of any man-of-the-match accolade.

But this was a true team effort for a Silvermines team that refused to accept defeat this year, coming back from the brink to defeat Burgess in a quarter-final before securing victory with a dramatic turnaround victory over Moneygall/Clonakenny in the semi. And once more they had to plumb the very depths of their resolve to secure an extra-time victory over a courageous and valiant Ballinahinch/Templederry side.

With the rain cascading down it was the combination side who were quickly out of the blocks, forging an early lead with both Mikey Ryan and Liam King (free) on target before Conor McKelvey responded with a fifth minute effort after cutting a mis-hit free off the sod and over the crossbar from all of 40 metres.

Ballinahinch/Templederry were noticeably on top in the early stages but three wides from play hampered their progress before the 'Mines, who were without the services of injured full-back Jack Keyes, snatched an eleventh minute lead thanks to a fantastic Alex Reynolds goal, after he gathered Adam Steed's low delivery and pirouetted on a sixpence before unleashing a low drive past the advancing Sean Collins.

Liam King responded for the combination side to see the sides level at the water break, 1-1 to 0-4, but with the sun now poking through the moisture-laden clouds, it was the 'Mines who really took over in the second quarter. With Cynan Bailey, Sean Ryan-Prendiville Ger Leamy, Kevin Hayden and Luke O'Brien hurling up a storm they provided the necessary platform for the Silvermines attack and afforded the opportunity for Tipp minor captain Michael Corcoran to push on into midfield.

Six Conor McKelvey points on the trot (three frees) propelled his side into a 1-6 to 0-4 advantage before Adam Steed netted with a 27th minute first-timed effort after a sublime Alex Reynolds delivery.

Ballinahinch/Templederry were floundering at this stage but a cracking David Healy goal right on the stroke of half-time provided his side with the timeliest of fill-ups. Malachy Mullaney added an injury time point but the free-running Ger Leamy hit back for the Mines' right before the whistle to see the boys in blue and white lead by six at the break 2-8 to 1-5.

However, the interval served Ballinahinch/Templederry well and they emerged a changed side. Playing into the scoreboard end they fashioned an astounding twelve-point turnaround. The Kelly twins, Joey & Karl really came into their own and were ably abetted by Liam King, Cathal O'Brien, Adam Ryan and Mikey Ryan. Karl Kelly got the fightback going with a 33rd minute point although Conor McKelvey did respond with a well-struck free.

Six wides from scorable positions in the opening eight minutes of the second half proved costly for the combination side though. However, Liam King flighted over a 38th minute free before Evan Kearns and Joey Kelly combined to set up David Healy for a 40th minute Ballinahinch/Templederry goal.

Harry Stapleton and Liam King (free) raised further white flags to bring Ballinahinch/Templederry level before Joey Kelly netted with due aplomb to fire them into a 3-9 to 2-9 advantage. Karl Kelly goaled from a 46th minute penalty to complete the 12-point turnaround but a cracking 47th minute Conor McKelvey goal just before the water break served to steady the floundering 'Mines challenge.

Silvermines clawed their way back into serious contention after McKelvey expertly dispatched a 53rd minute close-range free to the back of the net and once more the game was in the melting pot at 4-9 apiece.

Another goal two minutes later from Ger Leamy following a delightful cross-field ball from McKelvey saw proceedings swing back in the 'Mines favour but Ballinahinch/Templederry were not ones to falter easily. Deep in time added on Karl Kelly's goal-bound effort was deflected over the bar by the impressive Conor Murphy in the Silvermines goal before Murphy was again called into action to deflect a 65th minute Joey Kelly effort over the bar, 5-9 to 4-10.

Michael Corcoran appeared to have sealed victory for the 'Mines with a 66th minute long-range free but an astounding Liam King goal with virtually the last attack of the game sent the tie to extra-time.

Silvermines enforced a number of positional changes for the first period of extra-time with Cynan Bailey moving to centre-back to allow Michael Corcoran to assert himself in midfield. An utterly audacious point from Aaron Ryan edged the 'Mines in front before Conor McKelvey added another. Liam King responded with a sweetly-struck free before Michael Corcoran embarked on a mazy run through the heart of the defence to finish to the back of the net. Much to the chagrin of the Silvermines faithful referee, Mike Murphy disallowed the free and instead afforded them a close-range free which Conor McKelvey duly converted. McKelvey added two further points, from a free and a placed ball to ensure a deserved four-point lead for Silvermines at half-time in extra-time, 5-15 to 5-11.

Silvermines really pushed on in the second period of extra-time despite the best Ballinahinch/Templederry could muster. A Conor McKelvey free coupled with a Ger Leamy point increased the advantage before an Aaron Ryan goal served to finally see off a monumental Ballinahinch/Templederry challenge.

Fittingly, the final action of the game saw man of the match Conor McKelvey fire a close-range free to the back of the Ballinahinch/Templederry net to leave his indelible mark on the game and ensure a memorable win for Silvermines.

TEAMS - Silvermines: Conor Murphy; Niall O'Sullivan, Sean Ryan-Prendiville, Kevin Hayden; Brian Leamy, Michael Corcoran, Luke O'Brien; Cynan Bailey, Ger Leamy; Adam Steed, Conor McKelvey, Paddy Quigley; Cathal Treacy, Cathal McGrath, Alex Reynolds.
Subs: Aaron Ryan for McGrath (HT); John Ryan for Quigley (43); Eoin Ryan for Steed (60+3); Micheal Ryan-Prendiville for Leamy (ET).
Ballinahinch/Templederry: Sean Collins; Michael Hayes, Darragh Murray, Jack Mullaney; Cathal O'Brien, Karl Kelly, Mark Kinane; Liam King, Mikey Ryan; Joey Kelly, Adam Ryan, Malachy Mullaney, Evan Kearns, Harry Stapleton, David Healy.
Subs: Nathan Lenihan for Mullaney (ET); Jack Ryan for Stapleton (ET).
Referee: Michael Murphy (Toomevara).