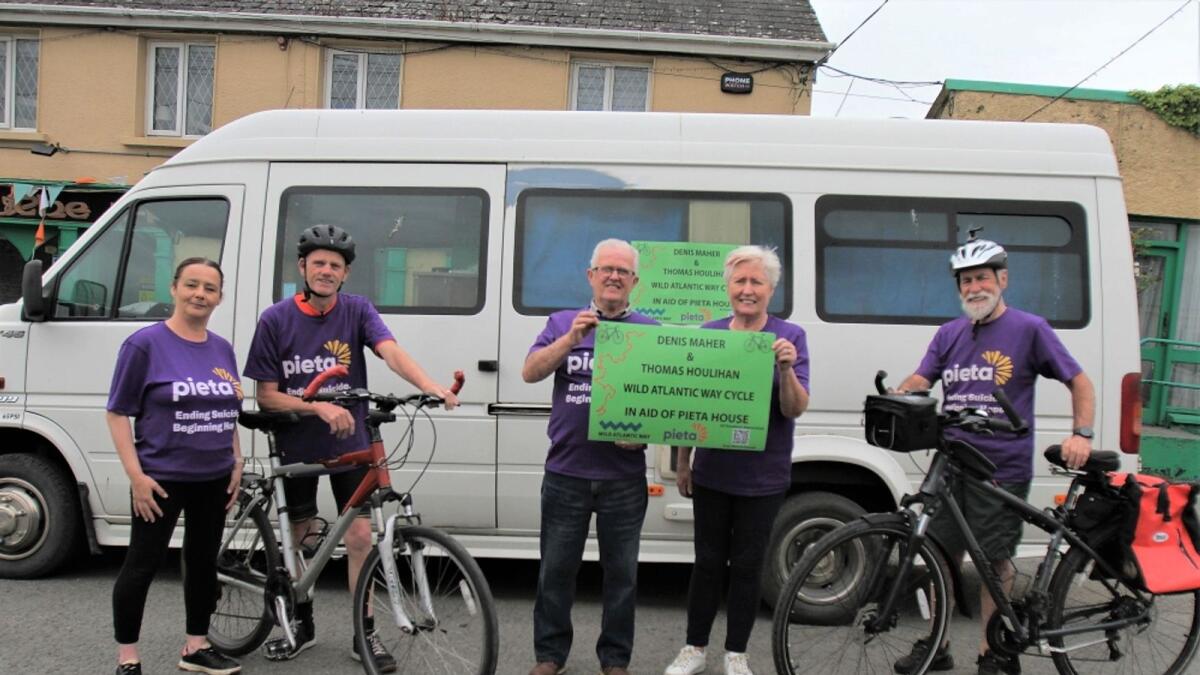 Pedal power for Pieta
Two Lorrha men have set themselves a gruelling challenge to cycle the Wild Atlantic Way, and all in aid of Pieta House.
Denis Maher and Thomas Houlihan will cycle a total of 2,400km, which they started from Dingle on Monday last. Denis said: "We just want to do it, regardless of how long it takes. The driving force of course is what we are doing it for. That's a great reminder, a great motivator that will keep driving us on."
His cycling companion Tommy Houlihan added: "When we look at the account at the end of the day and see that money has been donated, it helps us and it encourages us for the next day."
They plan to do this cycle in three stages, by cycling five days each week from Monday to Friday and take the weekends off, then go back on Monday and commence where they left off. The reason for this is that the roads they will be travelling on are narrow and there will be a lot of tourists out and about on the same roads so traffic will be heavy at the weekends.
Last year the pair completed the Mizen to Malin Head and on that occasion they raised over €8,400, which they presented to Pieta later in the year. This time around they have set a target of €5,000 for Pieta House.
"Pieta House is a wonderful organisation," explained Denis. "When people are in trouble and they want to talk to somebody, they can call Pieta House and someone is there 24 hours. They are also great to comfort people that are in bereavement, which is another great service that they provide."
Their backup team comprises of Tommy's brother, Bernie, and his son Niall along with Denis' wife, Lil, and their son, Daniel, who will all take turns in accompanying the pair on their cycling journey.
They can be followed on Facebook where they will be posting regular reports with photos and some video clips and to donate please go to https://www.idonate.ie/fundraiser/WildAtlanicCycle4Pieta