'Difficult to find a better home for this treasure'
Historic book presented to North Tipperary Genealogy & Heritage Services
Previous
Next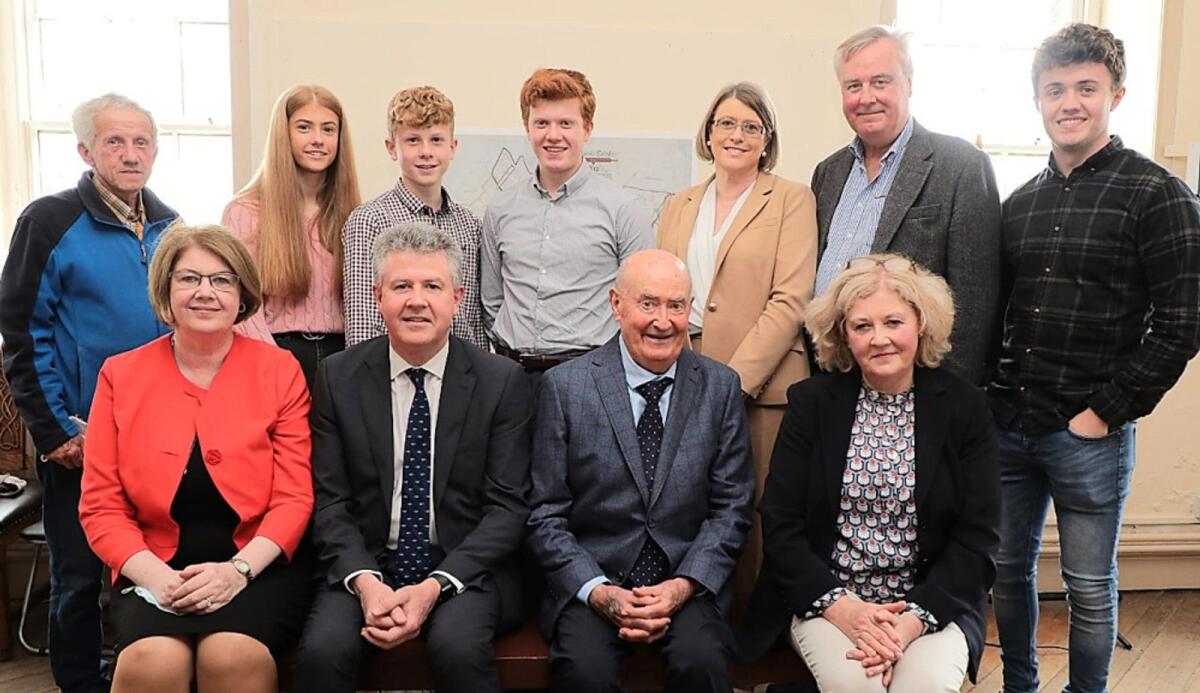 A momentous occasion was celebrated at Nenagh Heritage Centre last week with the formal presentation of an original Holmes Estate Rental Book to the Genealogy Centre.
Never before on public display, the unique nineteenth century tome once owned by Crown Solicitor Michael Gleeson was presented by former State Solicitor Pat Treacy, who had owned it since the early 1960s.
Welcoming all to the special occasion, Nora O'Meara, the Genealogist at North Tipperary Genealogy Centre, described the content of the book and maps as "fascinating". "Its genealogical, demographic, architectural, economic and social elements contain huge research material," Ms O'Meara said. "We feel very honoured that Mr Treacy has so kindly decided to donate this historic and genealogical document and maps to us. This unique book and maps will be on display permanently in the reception area of the Nenagh Heritage Centre and will be a huge asset and benefit to local historians and to the general public of Nenagh and the surrounding areas.
"In our endeavour to share genealogical and historical material, we have got some copies of the original book and maps reproduced and we are going to donate a copy to Tipperary County Council - one to the Local Studies section of the County Library in Thurles, and of course one to our Branch Library here in Nenagh, where the people of Nenagh and all of Tipperary undertaking research will have access to such a valuable historical document."
Ms O'Meara took the opportunity to sincerely thank Mr Treacy for his kind gifting of the book to her centre - "we are so privileged to be the custodians of such a valuable genealogical and historic document and delighted to add it to our collection. I would like to thank Pat's family, especially his daughter Marion Minogue, who facilitated our numerous meetings, visits and phone calls, and always with a very kind, welcoming smile.
"A very special thanks to Joe MacGrath, Chief Executive, Tipperary Co Council, who was the first person to initiate discussions between Pat Treacy and myself regarding this book. I would like to acknowledge Tipperary Co Council's generosity in undertaking the cost of the reproductions of the books and of course Joe for his constant support of the Genealogy Centre.
"Thank you to all of the wonderful staff at the Genealogy and Heritage centres - Geraldine Malone, Ger Maher and especially Libby Grey with her excellent creative and IT talents. They are responsible for all aspects of today's events. Without their assistance, it would not be possible.
"I would like to thank the Nenagh Guardian for their excellent professional skills in the reproduction of the book and maps, especially Donie Meagher and Elaine Duke, whom I worked most closely with."
Ms O'Meara pointed out that the Nenagh Guardian has a long association with both the Heritage and Genealogy centres. She said owners Pat and his son David Ryan have always been generous with their printing and photocopying facilities and their promotion of the two centres.
She also thanked the Board of North Tipperary Genealogy and Heritage Services - Marcus O'Connor, Ger Darcy (Chairman), Rosemary Joyce, Hughie McGrath, Damien Dullaghan, Joe Hannigan and Roisín O'Grady - for their continued commitment and support.
"And thank you to my neighbours for 35 years - the Sisters of Mercy - the nuns who cared for these beautiful buildings over the years."
Concluding by thanking all in attendance at the presentation, Ms O'Meara made particular mention of local historian Donal Murphy. "I must say a huge thank you to Donal and Nance, who were responsible for originally setting up Nenagh Heritage Centre and North Tipperary Genealogy Centre many years ago."
A HOME FOR HOLMES
She then handed over to Mr Treacy, who began by informing those present that he had given considerable thought for some time as to what he should do with the special copy of the Holmes Rental in his possession. He eventually contacted council CEO Joe MacGrath.
"He was kind enough to call to my office, where I showed him the Rental and told him of my wish to secure a permanent and safe home where the public would enjoy access to same. He called me some days later and told me I would be hearing from Nora O'Meara, the Genealogist at the Genealogy Centre.
"Nora contacted me the same day and invited me to bring the Rental to the centre, where a decision would be made as to its future. Following a brief inspection of the Rental, it was evident to me that Nora was most impressed by it and keen that it should have a permanent and special place in the centre. It would be difficult to find a better home for this treasure."
Mr Treacy said he could not speak highly enough of the interest shown by Mr MacGrath and Ms O'Meara in the Rental Book. "I am also most grateful for Nora's welcome when I called and for the steps already being planned by her and her associates to ensure its future protection. She has now made it ready for inspection and study by the citizens of Nenagh present and future, and visitors who may be interested in finding more about where their forebears had lived."
He told the gathering that in 1856 the Court of Commissioners for Sale of Encumbered Estates in Ireland, in accordance with its powers, arranged for the sale of the interest of the Holmes Estate in the town and lands of Nenagh and the lands of Farnamurry. The earliest document appears to be a Deed of 1721 in favour of Robert Holmes.
"In simple terms," Mr Treacy said, "this was intended as a sale of the freehold interest or ground rents of 1,091 houses in Nenagh and suburbs, and also in the lands of Farnamurry, which it owned."
TOLLS OF THE TOWN
Included (as Lot 1) were the 'Market House and Market Place, with the Beams, Weights, Scales, Tolls, Customs and Dues of Seven Fairs and Fifty-two Markets yearly, set to one tenant by Lease for one life at a yearly rent of £144-4s-8d Sterling'.
"The tenant was named as Major John Hamilton Dundas and it would seem that he was entitled on paying this rent not only to the use of the Market House but also to charge tolls to farmers bringing their livestock for sale on the streets of Nenagh. It would be interesting to know how Major Dundas extracted these tolls from the unfortunate farmer being called upon to provide same but, pending further investigation, it can be assumed that he positioned a toll gatherer at each and every approach to the town and that his yearly outlay as above was well rewarded by the tolls collected and by his exclusive use of Market House and Market Place.
"It would appear," Mr Treacy continued, "that the rights, powers and duties of both the lord and the tenant of the Manor were governed to an extent by ancient laws or special customs. In the case of approximately 80 of the properties being offered for sale, the title provided that the purchaser would be obliged 'to do suit and service at the Courts Leet, and to grind corn at the Mill of Nenagh'.
"The obligation in regard to the tenants' corn is understandable but that concerning suit and service at the Courts Leet is less than clear. Such Courts have been defined as a yearly or half yearly Court of Record, which the lords of certain manors held, but which appear to have been discontinued here many years ago."
COURTS LEET
Mr Treacy informed his audience that the Courts Leet were a type of Memorial Court of England, Wales and Ireland. It generally sat only a few times each year, sometimes just annually. Penalties were in the form of fine or even imprisonment.
Officers of the Court Leet were intended to provide the following and other services:
Steward - a stand-in for the lord of the Manor;
Bailiff - responsible for ensuring that the decisions of the Court were enacted;
Ale-taster - to ensure the quality of ale and that true measures were used;
Carniters - or 'flesh tasters' to ensure the freshness of meat and poultry;
Chimney Peeper - to ensure that chimneys were swept clean;
Scavenger - to ensure standards of hygiene within the lanes and privies, and to try and prevent the spread of infectious disease;
Overseer of the poor - to collect and distribute alms;
Chapelayne - who provided prayers for the Court;
Woodward - responsible for patrolling woodlands and stopping poachers from hunting illegally.
Mr Treacy continued: "While it is amusing to read how everyday matters were managed when Courts Leet were in operation, we should bear in mind that we are now in fact considering how public services were arranged in Nenagh in 1750 or thereabouts. The services then being provided by the officers of Courts Leet were essential at that time and all of which are now undertaken by different government departments, local authorities, an Garda Síochána and the Churches.
"Memorial Courts and Courts Leet have ceased to have any jurisdiction in the United Kingdom to hear and determine legal proceedings under the provisions of the Administration of Justice Act 1977, but in certain cases the jurisdiction formerly exercised by these Courts can be exercised instead by the High Court, the Crown Court, a County Court or a Magistrate's Court.
"I cannot say what powers, if any, were exercised to terminate the operation of Memorial Courts and Courts Leet in this State but, subject to correction, they appear to have died a natural death several centuries ago."
Mr Treacy went on to say that the sale was intended to take place at the Commissioners Court in Dublin by auction in 11 lots on December 5, 1856. "There is no information as to what happened on the day but the reality of the situation is that no sale appears to have taken place and the tenants continued to pay their rents. In the intervening years, however, it is likely that the majority of them acquired the Holmes Estate interest by private negotiation. There is no doubt that hundreds of the Holmes Rental, Maps and Particulars of Sale were prepared and distributed in 1856 but this copy, added to by the late Michael Gleeson, is unique in certain areas and, as such, invaluable."
MICHAEL GLEESON
Mr Gleeson was a solicitor who resided with his family at Summerhill, Nenagh. He was admitted to the solicitor profession in 1878. For a period, he was honorary secretary of the Nationalist Association and it was reported that in the Land League days 'his services, generously given, were sought by every tenant farmer in the County'. In 1895 he was appointed to the position of Crown Solicitor.
He held this office with distinction until 1922, when he resigned. The office was later abolished on the setting up of the Irish Free State and State Solicitors appointed in its stead. Michael died on December 26, 1932.
"It is reported that the Most Rev Dr Fogarty, Bishop of Killaloe, who was a personal friend of the deceased, presided at the solemn Requiem Mass for the repose of his soul and was also present at the funeral," Mr Treacy said.
"The large number of properties forming the Holmes Estate were offered for sale in 11 lots, each of which had a separate chapter and map exhibiting the many different units comprising each lot. Michael Gleeson's outstanding achievement was in 1931 to include on one parchment sheet all the 11 lots. Thus, when seeking title to a particular property, one would straightaway go to Mr Gleeson's map and have immediate information in relation to the lot number in question and have no need to check the other 10."
The speaker referred to Mr Gleeson's heading on the map that he prepared as "a work of art in itself".
HISTORICAL GEM FOR FUTURE GENERATIONS
"It is essential that this copy of the Holmes Rental (supplemented by Mr Gleeson's brilliant introduction and map) is kept and respected as a historical gem for the benefit of future generations," Mr Treacy affirmed. "Following Michael's death in 1932, the Rental was in the possession and care of his son Lewy, who died on November 14, 1960. After Lewy's death, his nephew Dermott Gleeson gave the Rental to me having served a five-year apprenticeship with Lewy, and probably in the expectation that it would stay in Nenagh.
"I am very pleased that here with us today we have descendants of Michael Gleeson - Joe Gleeson of Benedine, who is a grandnephew, and also Nora Gleeson O'Meara, our Genealogist, who is a great-great grandniece. On reading Michael Gleeson's beautifully written preface to his Holmes Estate map, one cannot but be impressed by the evident joy he found in what he achieved.
"May I suggest", Mr Treacy concluded, "that had the late Michael Gleeson, his son Lewy or grandson Dermott been asked to suggest a final resting place for their much valued Holmes Rental, they could not have been better pleased than to know it has now come to rest in this centre, where it will be fully protected while also being made available for public inspection for years to come."
Mr MacGrath, CEO of Tipperary Co Council also spoke reiterating the importance of the book. He thanked Mr Treacy for his presentation of the Rental and Ms O'Meara for facilitating its display at the Nenagh Heritage Centre.
The book was then formally presented by Mr Treacy. It is now on display at the centre, which is open to the public, Tuesdays to Fridays, 10am to 4pm, and is free to visit.