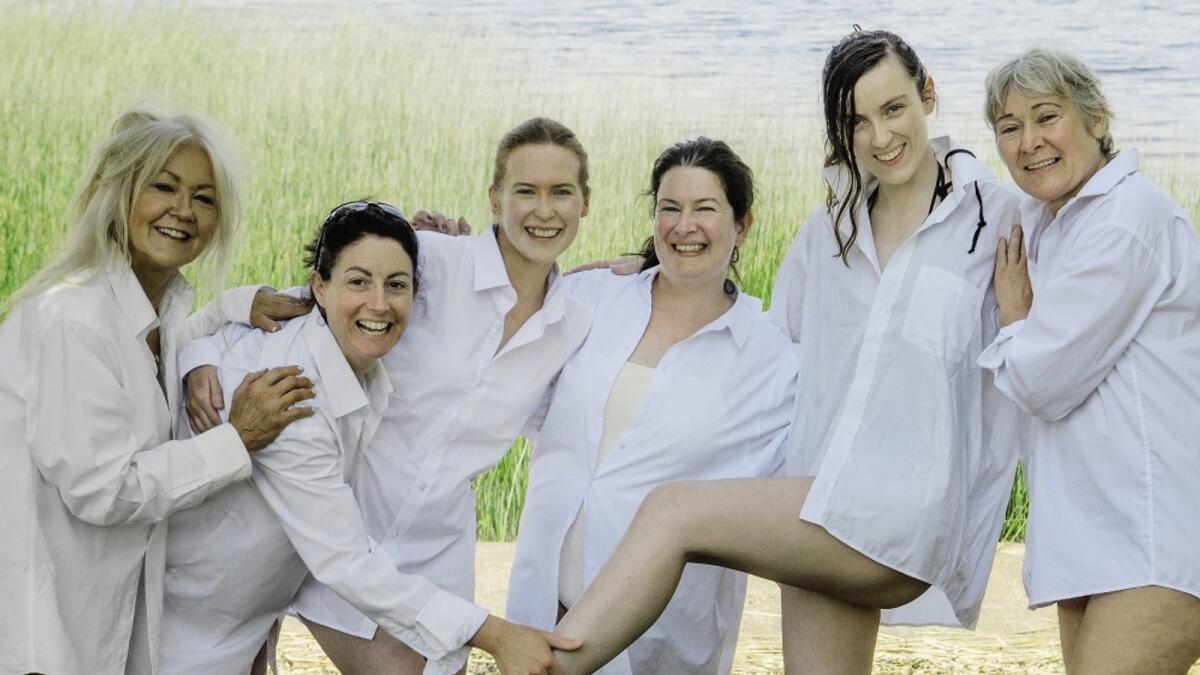 A boost from swimming in the Shannon
Elizabeth Carter Garner and The Guardian's Portumna Correspondent Jim Hynes join forces to write this article on the health benefits that six women from Portumna have enjoyed from swimming in Lough Derg.
Previous
Next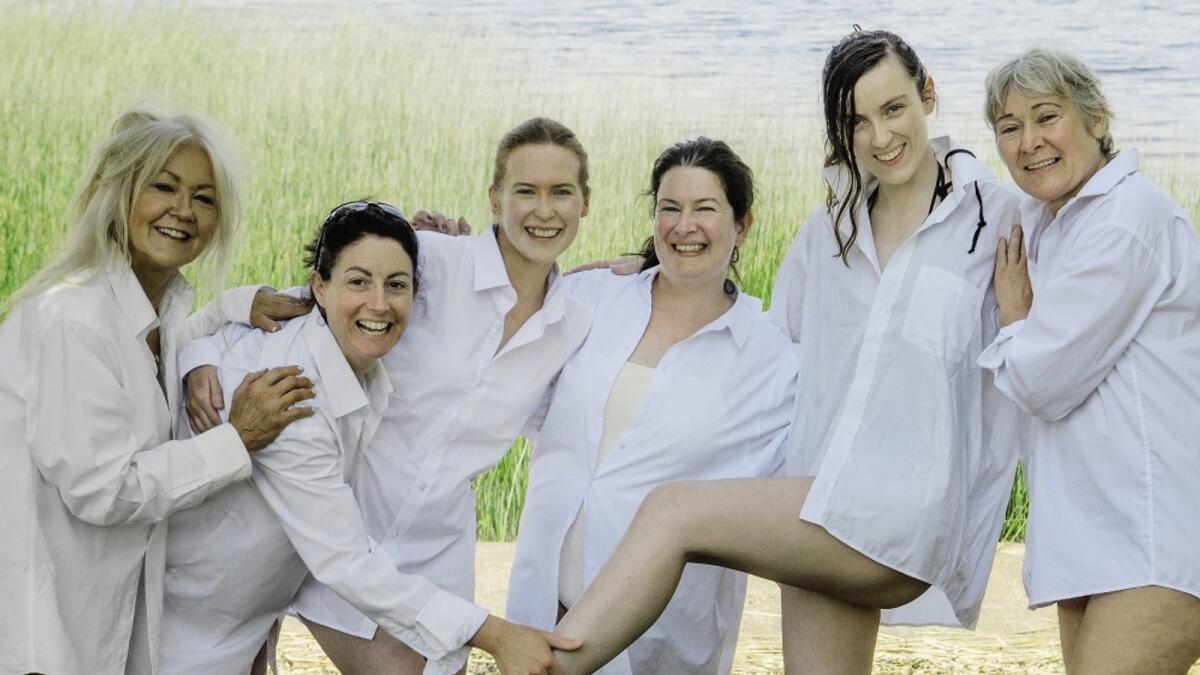 In August 1988, the famed photographer Peter Lindbergh took a series of exuberant, playful shots on a Malibu beach and made supermodel history.
The iconic image of models in oversized white shirts has been recreated recently to celebrate the splendours of the Shannon and the women who enjoy the waterways close to home during Lockdown. As you drive down the quiet Shannon Road in Portumna, pretty bungalows either side of the hedgerows, there isn't a hint of the glistening waters, which lay past the final bend in the road. Suddenly the skyline opens up and Lough Derg shimmers straight ahead. Where the water meets the sky, the silhouette of a swan glides leisurely along. But this isn't just a spot for wildlife. A solid pier stretches out into the still waters waiting for the school summer break, and kids to launch themselves into the air and land with a splash. For nervous parents, a seasonal lifeguard team watch over the antics. Well-maintained showers and toilets are also onsite, providing all the facilities you need for a day out.
Yet this Co Galway town is more famous for its marina, boat hire and heritage sites than its well-equipped swimming spot. This is unsurprising as Ireland has more than 4,000km of scenic coastline, but the lure of inland waterways has received much less promotion. This is steadily changing, with the health benefits (both mental and physical) of outdoor swimming now widely promoted. More people than ever are putting on their togs and taking a dip. Websites such as http://outdoorswimming.ie even offer guidance on where you can have a splash. And the lakeside is not just about swimming. Sailing, kayaking, bird watching, photography, listening to a podcast - there is nothing like the lap of nearby water to inspire creativity, encourage exercise or calm the mind.
SIX WOMEN
This is what unites six very different women, who gathered for a photoshoot on the lakeshore one sunny June morning; they reflect the variety of ways in which people use Lough Derg. Lorraine Claffey Didek runs 'In Your Prime Studio' in Portumna and is an Esthetician/Skincare Coach. She loves encouraging and empowering women of all ages to look and feel great, inside and out. However, lockdown life with a closed business spurred Lorraine on to try something new. Her focus has always been to promote good skin care, wellbeing and zest for life. She lives and breathes what she says, and this prompted her to brave cold to freezing temperatures sinch last October. Lorraine has kept up this routine and as a skincare guru, she attests to a morning dip as a youthful tonic for skin. It boosts circulation and helps keep the skin firm and toned. The immune system is also improved and as she describes the experience: "You come out feeling energised and exhilarated, on a natural high." The rolling lawn banks by the pier are another draw for Lorraine as she practises barefoot running on the grass to get 'recharged' from the Earth's energy. As she says: "Seeing and being a part of nature and wildlife is a therapy in itself."
Sarah Killeen runs The Mind-Body Engine. This online, bespoke fitness business is for ladies 40 and over to help them find a new sense of themselves as they navigate through midlife. Sarah supports ladies with their fitness, wellbeing, nutrition, selfcare and mindset.
For this busy entrepreneur, the swimming area is a key part of her exercise circuit and a vital part of her childhood. Sarah grew up in Portumna where 'Going to the Shannon' was the norm during the summer months. So was taking part in the July swim week under the watchful eye of water safety instructor Barney O'Reilly. This active relationship with outdoor water gave Sarah a respect for the Shannon, but also made her embrace the water. "I always loved being in the presence of water, but the lake especially always had a calming and reflective influence on my mood." With a hectic schedule as a busy Mum, Sarah forgot about her love for Lough Derg. There was just no time to fit in a swim. This all changed during lockdown of autumn/winter 2020. Sarah's daily dip became a necessity for body and mind.
The cold water provided a release, recharge and re-awaking of the dormant passion for swimming which she had ignored, and was an antidote to being housebound with five people including two teenagers, working online from home and many perimenopausal symptoms thrown into the mix. In her own words: "Only for the lake and the encouragement of other like-minded people I don't know how I would have coped with this pandemic and its challenges." Sarah is not alone in this experience and many ladies have messaged her about wanting to embrace the water. In response, she has organised some 'Trek & Dip' events locally for ladies which has proved a great success. Instead, of worrying about the state of the post-Covid world, the water has reawakened Sarah's sense of adventure. She's excited by the local growth of interest in outdoor swimming and is happy to say, "Let's see where this journey goes."
BUILDING HEALTH
Edith Carter has always been an avid outdoor swimmer, but after recovering from cancer, especially as a full-time carer, getting in the water was a fantastic way to rebuild her health, positivity and just give her some space. She says that, "you don't have any worries in the water. Once you're in, the world simply slips away. Whatever you had going through your head when you got in the water, it's gone when you get out." Grainne Conway and Lisa Keane are both busy career women. Grainne works in Boston Scientific as a Product Builder in Polymer Core Technology Mouldings. She became interested in swimming as a result of raising funds for Simon Community through their 'Dip A Day in May'. Lisa is a Team Lead in the Finance Department in Northern Trust, Limerick. The expansive lakeside setting is simply a beautiful spot for her to unwind after the challenges of work. Laura Cunningham, like most of us, found that Covid made her think more about what really mattered in her life. She is a long-term friend and follower of Lorraine's instagram @inyourprime, where she saw snaps of outdoor swimming. In her own words, "I had already started some outdoor fitness challenges and wanted to try cold water dips having read about the health benefits. I waited till the water warmed a bit and gave it a go." She adds, "It is great fun. Outdoor swimming is a way to get outside into nature and push yourself to do new things." Laura even noticed that it boosted her confidence. "Trying something new is exciting. Plus, the cold water is very refreshing and invigorating. It definitely reduces stress and improves health, all while meeting new people who are like-minded thrill-seekers. I'd highly recommend anyone to give it a go, and if swimsuits are a bit too revealing, you can always bring a wetsuit." Portumna swimming area has been a sanctuary during Covid. Gazing out over the wide-open waters is instantly revitalising, whether on a sunny afternoon or during a choppy, windy morning with the waves whipped up into foamy crests. Our inland waterways are still underused but a group of 'Supermodels on the Shannon' are bucking this trend and celebrating 'Staying Local' at the same time. With the summer ahead of us, and travel issues still uncertain, maybe it's time to find your togs and give outdoor swimming a go. You'll be in great company.