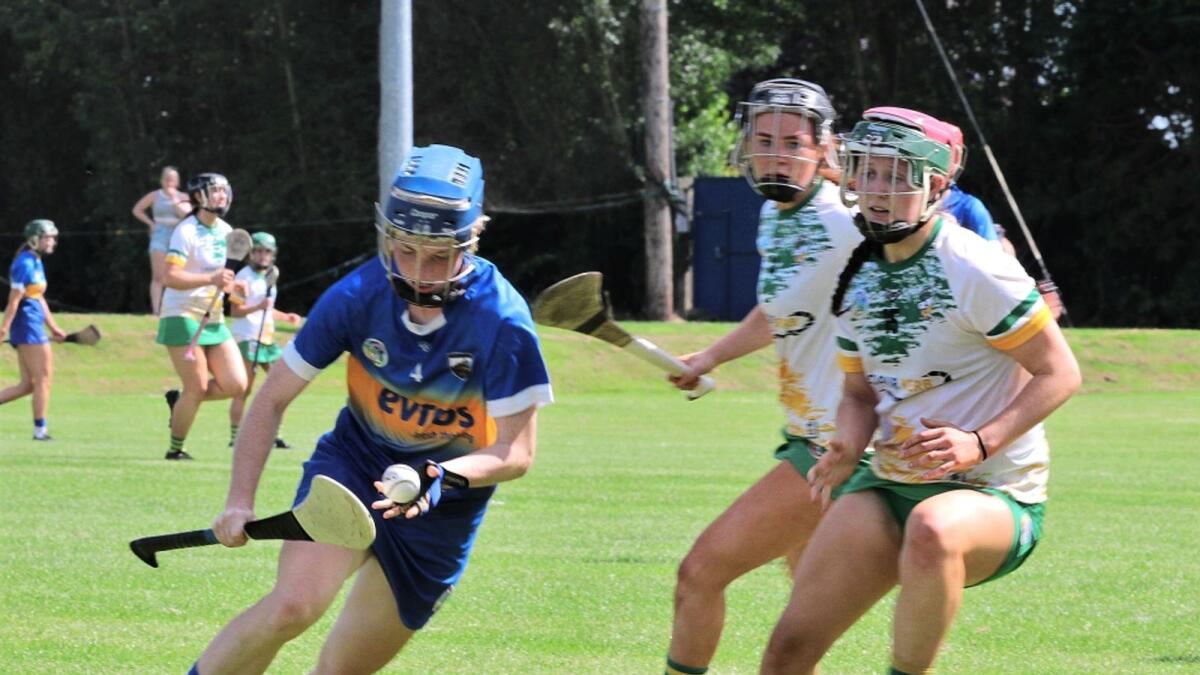 Tipp take no mercy on Offaly
CAMOGIE: All-Ireland Senior Championship Group 1 Round 2
Tipp take no mercy on Offaly
Offaly 1-12
Tipperary 3-23
Report: Thomas Conway in Banagher
Tipperary's 2021 Senior Championship campaign began gathering steam last Sunday, as Bill Mullaney's side easily dispatched an underwhelming Offaly challenge, finishing with seventeen points to spare.
MATCH DIGEST
Player of the Match: Orla O'Dwyer (Tipperary)
SCORERS - Offaly: Mairéad Teehan 1-8 (0-4 frees, 0-1 '45), Kate Kenny 0-3; Siobhán Flannery 0-2.
Tipperary: Orla O'Dwyer 3-3; Cáit Devane 0-9 (6 frees, 1 '45); Eimear McGrath, Grace O'Brien, Miriam Campion 0-2 each; Karin Blair, Nicole Walsh, Clodagh McIntyre, Jean Kelly, Eimear Heffernan 0-1 each.
Little over a month since Tipp had obliterated the same opponents by sixteen points in the quarter-final of the National League, this win was a necessary step on a much longer expedition for Tipperary, a team gunning to finally breakthrough the mould and upset the dominance of camogie's leading triumvirate - Kilkenny, Galway, and Cork. That said, Tipp were never going to underestimate their Midlands opponents, something which manager Bill Mullaney emphasised after the game, but in reality, the Premier were far superior across almost all aspects of the game.
Orla O'Dwyer's performance in Saturday's Ladies Football Championship opener against Cork seemed slightly subdued. Perhaps motivated by the stinging nature of that defeat, the Cashel woman lit up the stage on Sunday, effectively winning the game with a hat-trick of sublime goals, complemented by numerous points from play.
It took her just three minutes to register the first, building on an early Eimear McGrath point, with a bursting run directly through the heart of the Offaly defence, before swerving slightly left and hopping the sliotar into the far corner from fourteen metres, the ball skimming off the Astro-turf surface of the small-square and leaving keeper Mairéad Jennings with little chance. An ideal start for Tipp, and things would only get better.
Grace O'Brien was among the standout performers in which the Tipp forward line adopted a 2-2-2 formation, creating ample space for the likes of Cáit Devane, McGrath, O'Dwyer and co., all of whom maximised the strategy. Listed as corner-forward, O'Brien spent most of her time well away from the inside-line, playing a roving role out the field which allowed her to pick up endless amounts of possession, and use the ball wisely on more or less every occasion. She struck Tipp's second point approaching eight minutes, and from there the scores started to fly between the posts.
Devane, McGrath, Karin Blair - who had been announced as a late replacement for Mairéad Eviston prior to throw-in - all contributed before Offaly eventually sent over their first point on the cusp of the water-break via Kate Kenny. Mairéad Teehan - previously of Tipperary, managed to tag on another before the players took liquids on board, but events still seemed headed in only one direction.
Unable to sustain the Tipperary tempo in the first quarter, Offaly got somewhat to grips with the visitors in the lead-up to half-time, finally finding their groove and knocking over some points, Teehan to the fore in most of their attacks, showing flawless accuracy from placed-balls. Whether the Moneygall woman honed her free-taking ability by observing her former teammate, Cáit Devane, is a question only she can answer, but one could do worse than model their technique on Clonoulty-Rossmore sharp-shooter, who exhibited similar proficiency on Sunday, as she always does. The secondary-school teacher was also prolific from play, floating over a superb effort from the wing on 28 minutes, helping to consolidate Tipp's hefty advantage at half-time, the Premier leading 1-14 to 0-6.
Offaly were a different animal in the early stages of the second-half, slotting over two points in quick succession and suddenly making it appear as if a comeback might be on the cards. That prospect died moments later, when O'Dwyer blasted home her second goal, picking up a pass from Clodagh McIntyre and rifling the ball past Jennings mid-height.
Two minutes after that, the hat-trick was complete, O'Dwyer providing the finish to a move which saw Blair send the ball hurtling towards Róisín Howard, who offloaded to O'Dwyer and allowed the triple star (camogie, ladies football, Aussie Rules) to do the rest, exploding past several defenders and firing a low effort towards Jennings - which was initially saved by the Offaly keeper, but subsequently trickled in over the line.
Impressive as O'Dwyer's hat-trick was, the most spectacular score of this game was arguably Mairéad Teehan's late goal, which offered some consolation on an otherwise painful day for Susan Earner's side. A bullet into the roof of the net, struck from around twenty metres out, no player was more deserving of a goal than Teehan, who finished with a personal tally of 1-8.
If Offaly are to have any chance of overcoming Wexford next weekend, Teehan will again have to be firing off all cylinders. Limerick are likely to pose a steeper challenge to Tipp in their forthcoming clash, but the Premier could do worse than emulate last Sunday's performance, though they may have to do so at a slightly cooler temperature.
TEAMS - Offaly: Mairéad Jennings (6), Sarah Walshe (6), Triona McDonald (6), Lorraine Keena (7), Gráínne Dolan (6), Michaela Morkan (7), Sharon Shanahan (6), Orlagh Kirwan (7), Aisling Brennan (7), Siobhán Flannery (6), Róisín Egan (6), Mairéad Teehan (8), Gráinne Egan (7), Kate Kenny (7), Sarah Harding (6).
Sub: Caitlin O'Meara (6) for Harding (46).
Tipperary: Caoimhe Bourke (Drom & Inch 7), Julieanne Bourke (Borris-Ileigh 8), Mary Ryan (Moneygall 7), Eimear Loughman (Clonoulty/Rossmore 7), Karin Blair (Cashel 8), Karen Kennedy (Thurles Sarsfields 7), Aoife McGrath (Drom & Inch 7), Orla O'Dwyer (Cashel 9), Ereena Fryday (Knockavilla Kickhams 8), Clodagh McIntyre (Lorrha 7), Róisín Howard (Cahir 8), Nicole Walsh (Borris-Ileigh 7), Eimear McGrath (Drom & Inch 8), Cáit Devane (Clonoulty/Rossmore 8), Grace O'Brien (Nenagh Éire Óg 8).
Subs: Miriam Campion (Drom & Inch 8) for E McGrath (41); Jean Kelly (Éire Óg Annacarty 7) for Fryday (41); Lorna Dwyer (Holycross/Ballycahill 7) for A McGrath (51); Eimear Heffernan (Knockavilla Kickhams 7) for Howard (51).
Referee: Philip McDonald (Cavan).