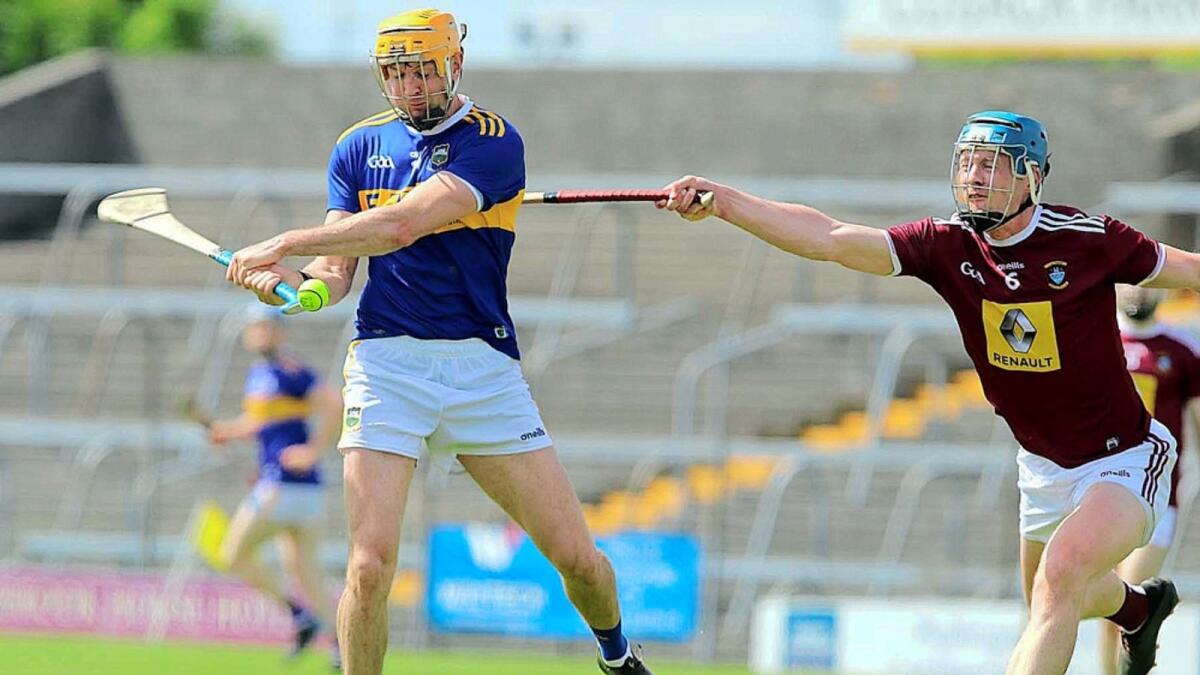 More evidence of a Tipp team taking shape
By Shane Brophy
You're damned if you do and damned if you don't in these kind of games as a Tipperary senior hurler so a twenty-three point win, with no injuries, and twenty-two players getting game time was the satisfactory outcome from Mullingar on Sunday.
Westmeath have found the going tough in the top tier this year, but Tipperary manager Liam Sheedy paid them the ultimate respect, selecting a strong line-up, and certainly the attitude of the players throughout was impressive, playing at a high tempo and never looked like they were going through the motions.
In fairness, they couldn't as there is such a competition for places that even in games like these you have to have your attitude spot on, and the management will have been pleased with that, particularly by the impact of the subs bench where Jake Morris, Alan & Paul Flynn, and Mark Kehoe contributed 1-8 between them, while James Quigley and Craig Morgan, making their first appearances of the year, were hungry for the fray also in defence.
In certain areas of the field, Liam Sheedy and his selectors will have tough decisions to making come July 4th when they face Clare or Waterford in the championship, if they have a full strength panel to choose from. Brian Hogan made his first start of the season having recovered from concussion and was assured between the posts, with his distribution on the money.
Defensively, Tipperary are well stocked at the moment with Cathal Barrett, Padraic Maher and Barry Heffernan looking nailed on to be the full back line, although Heffernan played much of this game on the wing but that plays into the Nenagh mans strengths where he can get forward and added another two points from play to his league haul so far.
Brendan Maher slotted back in seamlessly at centre back in his first start of the year, and considering Seamus Kennedy and Ronan Maher were rested for this game, there is a flexibility in how Tipperary can set-up their defence depending on the opposition, with Maher and Kennedy equally comfortable at centre back or on the wing. Add in Brian McGrath who again played well and with Bryan O'Mara to come back from injury, it's a strong base to choose from.
There is also the added options of Alan Flynn and Paddy Cadell being able to play in the half back line also, but they are earmarked for midfield at the moment, with Cadell impressive once more in his overall workrate, with only his shooting letting him down, shooting three wides despite scoring twice from play.
However, the Tipperary team overall looks a lot more assured with Dan McCormack at midfield where he started this game alongside Cadell. He plays the role similar to that with Borris-Ileigh where he gives great assistance to his centre back and you could certainly see the understanding he had with his clubmate Brendan Maher in this game. While you might be robbing him from the half forward line, a strong and stable middle third will be important to Tipperary's overall ambitions going forward.
The performance against Westmeath wasn't perfect by any means, with another high wides tally of sixteen, eleven in the first half, of which eight were very gettable. Many were from distance as the inside forwards struggled to win possession and it was only when the subs came on the in the second half with Jake Morris, Mark Kehoe and Paul Flynn adding more movement that more scores came closer to goal with only five wides recorded after the break.
Morris and Kehoe in particular looked sharp and if Tipp are to contend for All-Ireland honours, young blood will be needed.
That being said, returning skipper Seamus Callanan looked in good nick in his first game in almost six months, while John McGrath should get some confidence with his 1-2 contribution but there is so much more in him, while Jason Forde is ultra-consistent, posting another 2-6 haul without any fuss.
In the first half in particular, Noel McGrath ran the show from centre forward where he almost had a free role to drift into pockets of space to receive a pass and had a hand in many of the first half points. Michael Breen's position for this year looks to be at wing forward and while he opened the scoring inside twenty seconds, he put in a good shift, as did Willie Connors who the management like in terms of a different aspect to the attack.
The only let-down on Sunday was being forced to play the last twenty-six minutes or so with fourteen men after wing back Robert Byrne was sent off following an off-the-ball incident with Joey Boyle. While the strike itself was soft, it was a needless act to give the referee a decision to make, particularly after another solid outing until then.
While the red card wasn't costly for the team on the day, it could be for the Portroe clubman overall for his championship prospects as such an act of indiscipline in a run-of-the-mill league game would be far more costly in bigger games to come, and in a sector were there is such competition for places, Byrne will have a battle on his hands to retain his place after his one game ban.