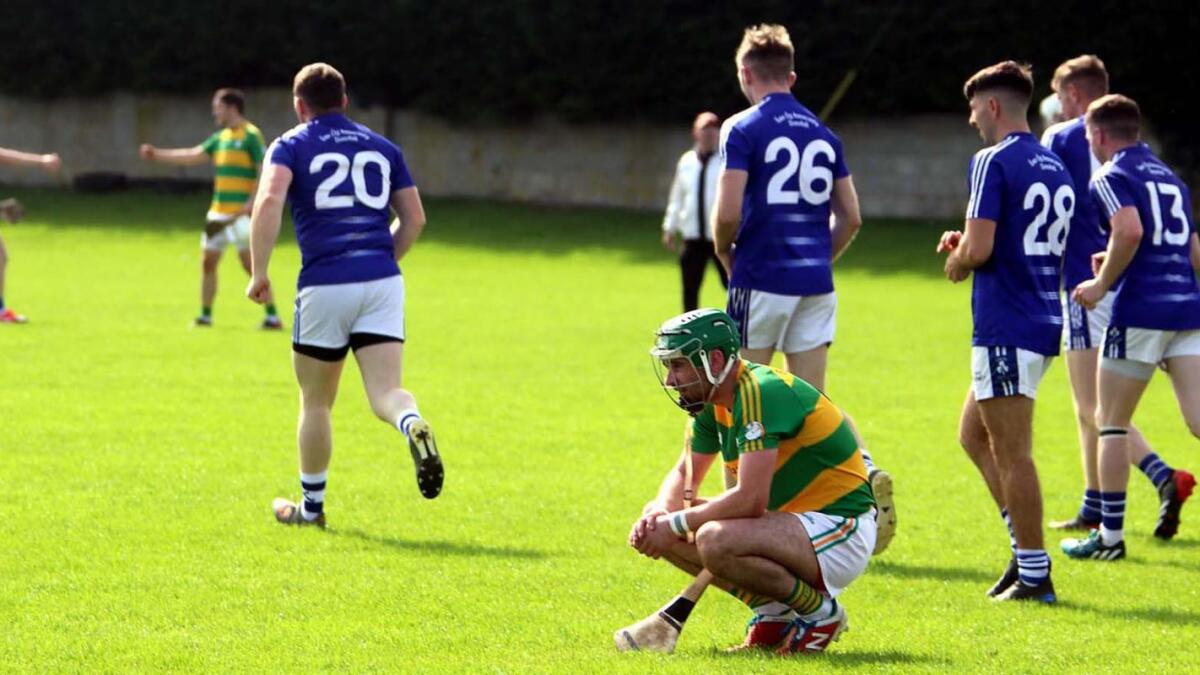 Annacarty end Burgess' top tier sojourn
GAA: FBD Insurance Tipperary Senior Hurling – Dan Breen Cup Relegation Final


Eire Og Annacarty 1-17
Burgess 0-16
Report: James Hayden at The Ragg

MATCH DIGEST
Player of the Match: Donal O'Dwyer (Eire Og Annacarty)
SCORERS - Eire Og Annacarty: Donal O'Dwyer 0-5; Seanie Ryan 0-3 frees; Daragh Mooney 1-0 pen; Paul Downey, Tom Fox, Dinny Crosse 0-2 each; Ronan O'Brien, Paidi O'Dwyer, Aidan Griffen (free) 0-1 each.
Burgess: Stephen Murray 0-8 (6 frees); Donagh Maher 0-4; Johnny Mulqueen 0-3; Stephen Kirwan 0-1.

Eire Og Annacarty called a halt to Burgess' participation in the top flight of senior hurling with a hard-fought victory in an absorbing County Senior Hurling Relegation final last Saturday.

Having spent two years in the top tier Burgess faced a stiff battle to retain their Dan Breen status in the guise of a battle-hardened Eire Og Annacarty outfit but matched their west counterparts blow for blow throughout, and indeed could have emerged victorious if Lady Luck had intervened.

Burgess kept Annacarty on the back foot for significant periods but their inability to convert possession into scores and poor shot selection came back to haunt them. A missed 17th minute Stephen Murray penalty coupled with Murray's 41st minute effort ricocheting off the Annacarty crossbar also hampered their chances in a tie which really could have gone either way.

Burgess are without doubt a side in transition and this loss may be a blessing in disguise for them and afford them the opportunity to blood some new players in the years ahead while for Eire Og Annacarty it may only serve to prolong the inevitable.

The 2018 Seamus O Riain Cup champions had it all to do to retain Dan Breen status against an Eire Og Annacarty side that on paper appeared to have the necessary wherewithal to maintain their Dan Breen status. Playing with the aid of a stiff breeze Vinny Ryan's charges led by two points after five minutes with Dinny Crosse, Seanie Ryan (free) and the impressive Donal O'Dwyer firing three points with reply following Stephen Murray's opening point of the tie. Murray cut the deficit to two with an angled seventh minute free, before three points on the bounce from play from the free-roving Donal O'Dwyer in the space of two minutes propelled Annacarty into a 0-6 to 0-3 advantage.

Burgess eventually curbed the threat of O'Dwyer but in those two minutes substantial damage had been caused. Burgess were afforded the opportunity to level matters with a 17th minute penalty after Brian Fox pulled down Stephen Kirwan, but Stephen Murray's effort blazed narrowly wide of the Annacarty upright. Burgess battled on though and hit back with a Donagh Maher effort on 18 minutes, but they still trailed by two at the water break, 0-6 to 0-4.

Points from Ronan O'Brien and Seanie Ryan (free) extended Annacarty's advantage to four before the first of three points from play from Johnny Mulqueen cut the deficit to three. Donal O'Dwyer was again on target for Annacarty before Stephen Murray flighted over a 26th minute free from close range.

As the interval approached both sides squandered clear-cut point scoring opportunities. Donagh Maher and Dinny Crosse raised white flags for their respective sides deep in added time before Johnny Mulqueen's crossfield ball found Stephen Murray in acres of space and he duly pointed with ease to ensure Burgess trailed by just two at the break, 0-10 to 0-8.

Burgess emerged determined to claw back the deficit and within ten minutes they were back on terms following points from Stephen Murray, Stephen Kirwan, and Johnny Mulqueen with just a Tom Fox effort in reply from the West men.

Eire Og Annacarty can feel aggrieved for having a goal disallowed on 34 minutes when Donal O'Dwyer was adjudged to have been in the square when the sliotar arrived after Ronan O'Brien's shot was parried high into the air by Ronan Tucker in the Burgess goal. Referee, Kevin Jordan's decision stood though in what proved a big let-off for the Burgess men.

Annacarty led by a point at the water break, 0-13 to 0-12, thanks to a sublime Tom Fox effort. Indeed, the dominance of Fox and substitute Paidi O'Dwyer under the puckout in the closing quarter proved pivotal in Annacarty's bid for victory.

Burgess battled gamely though and were well in touch until a 52nd minute Darragh Mooney penalty after Ronan Tucker had upended Paul Devlin handed the initiative to the west side, 1-14 to 0-13.

Donagh Maher and Aiden Griffen (free) traded points before a second point from play from midfielder, Paul Downey fired Annacarty five clear. Burgess hit back with Stephen Murray free and a third from play from Johnny Mulqueen and they almost bagged a late, late goal after Stephen Kirwan found himself through on goal but the corner-forward kicked his effort to the right and wide.

Substitute, Paidi O'Dwyer copper-fastened victory for Annacarty with a point deep in injury time to ensure Dan Breen status for another year for his side.
TEAMS - Eire Og Annacarty: Darragh Mooney (7), Diarmaid Ryan (7), Conor O'Brien (8), Michael O'Brien (7); Michael Bradshaw (7), Brian Fox (7), Kevin Fox (7); Paul Downey (7), Paul Devlin (7); Eoin Bradshaw (7), Tom Fox (8), Dinny Crosse (7); Seanie Ryan (7), Donal O'Dwyer (8), Ronan O'Brien (7).
Subs: Paidi O'Dwyer (7) for Bradshaw (42); Aiden Griffen (7) for Ryan (44); Josh Quinn (NR) for Crosse (60); Eoin Kennedy (NR) for O'Brien (60+3).
Burgess: Ronan Tucker (7), Willie Ryan (7), Shane Maher (7), Daire Hogan (7); Johnny Mulqueen (8), Donagh Maher (8), Tadgh O'Halloran (7); Jack Flaherty (7) Keith Nealon (7); Conor Gill (7), Tony Dunne (7), Stephen Murray (7); Danny Ryan (7), Bill O'Flaherty (7), Stephen Kirwan (7).
Subs: Will Fogarty (6) for D Ryan (47); Sean Dunne (NR) for Gill (59).
Referee: Kevin Jordan (Thurles Gaels).