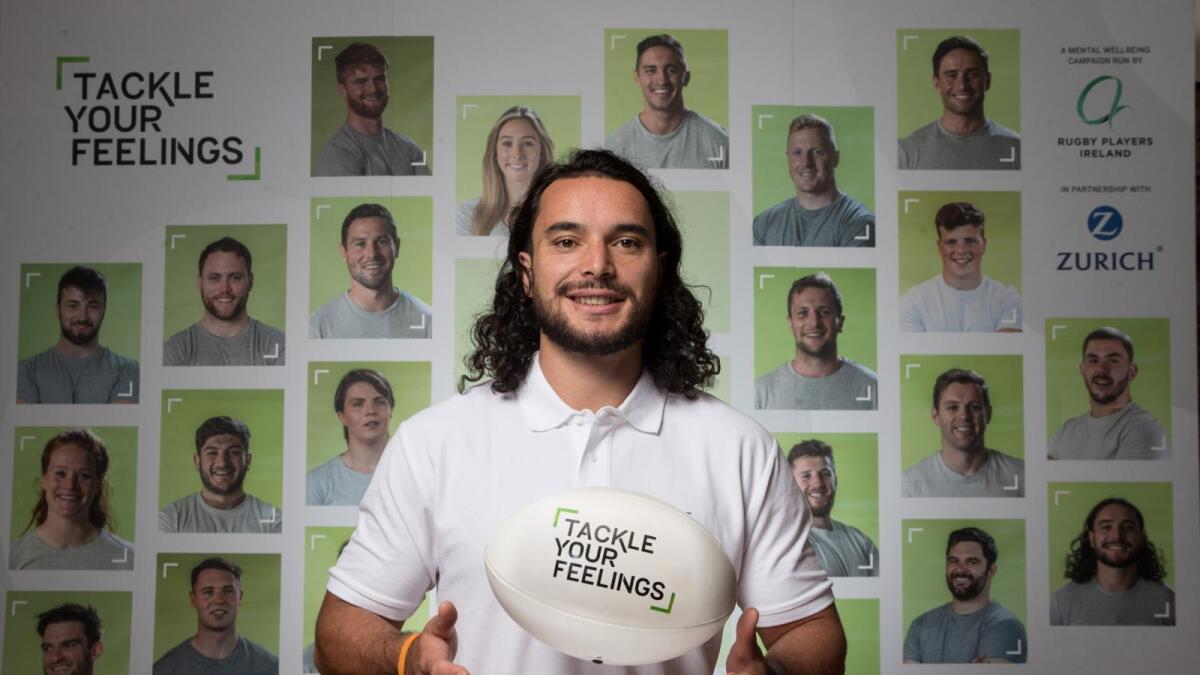 Rugby Players Ireland campaign encourages greater Mental Wellbeing
Rugby Players Ireland and Zurich have relaunched the Tackle Your Feelings mental wellbeing app and website as part of a new phase of the campaign: #ImTakingControl. Leinster Rugby Player and campaign ambassador James Lowe was on hand to lend his support at the relaunch of Tackleyourfeelings.com and the TYF app, which is free to download through the Apple and Google Play App stores.
Over one in four (26%) of the Munster population rate their mental wellbeing as poor or very poor in new research commissioned by Zurich & Rugby Players Ireland which was conducted by iReach across the island of Ireland. The findings also show that 30% of people from Munster consider how they are feeling less than once every few months. Whilst 84% of people in the province reported that their mental wellbeing is important to them, almost half (46%) of respondents stated that they don't do enough to 'Take Control' of their mental wellbeing.
The Tackle Your Feelings campaign aims to promote a proactive attitude towards mental health and to provide people with the tools to 'Take Control' of their mental wellbeing using sport psychology and positive psychology principles. The latest TYF app & website will equip users with the tools to develop coping skills and enhance their support networks, including professional help when needed, putting them in the best position to 'Take Control' of their mental wellbeing.
The app and website encourage people to be proactive about their mental wellbeing, with the research revealing that less than half the people on the island of Ireland (48%) don't actively manage their mental wellbeing as part of their daily routine. It also found that over 50% of respondents admit that they only focus on their mental wellbeing when they have an issue or challenge. 42% of the Irish population stated that they consider themselves healthy despite not focusing on their mental wellbeing, with over half acknowledging they spend more time focused on exercise, keeping fit, healthy eating and diet than on their mental wellbeing.
Users can choose the Tackle Your Feelings resources they feel they need at the time. The app and website will feature sections on Relationships, Confidence, Happiness/Sadness, Sleep, Self-Care, Resilience, Anger, Relaxation, Optimism & Self-Awareness. It will also have a mindfulness section where users can select from several mindfulness exercises.
Commenting on the launch of the new phase of the Tackle Your Feelings campaign, Leinster Rugby Player & ambassador James Lowe said: "I'm delighted to be an ambassador for the Tackle Your Feelings campaign and to tell my own story of how my arthritis diagnosis at age 14 impacted me physically and mentally. As a sporty kid, this was tough, but the power of positive thinking got me through, and today I really realise how lucky I am to play rugby. Sometimes you don't talk, and you think your feelings are for you. The research showed that 53% of people of people from Munster find it difficult to talk about their mental wellbeing. Don't bottle things up. It's best to get them off your chest early instead of waiting for them to hinder you later on. As a professional rugby player mental wellbeing is critical on and off the pitch. It's not just important for athletes though, it's important for everyone - being in a good place mentally and emotionally allows me to excel at all aspects of life! I'm taking control!"
The campaign will feature several leading Irish international and provincial rugby players, along with James Lowe, as role models to inspire and encourage people to 'Take Control' of their mental wellbeing and help to remove some of the stigma associated with mental health. These ambassadors will be sharing videos of their own tips and techniques on how they 'Take Control' of their mental wellbeing. Over 25 rugby players will use their profiles to support the campaign.
Anthony Brennan, CEO, Zurich Ireland said: "We at Zurich are delighted to continue our support for the latest phase of the Tackle Your Feelings campaign with Rugby Players Ireland. Our research clearly demonstrates that while people appreciate the importance of managing their mental wellbeing, they are not taking control of it as they do for their diet and fitness. This may be because half of the people in our survey stated they are unsure as to how they should manage their mental wellbeing. We believe the app and website will encourage and make it easy for people to be more proactive and incorporate mental wellbeing as part of their daily routine. It is great to get the support of ambassadors like James Lowe who bring to life the vital role that mental wellbeing plays in our lives, and how we need to prioritise it as part of our overall health."
Tackle Your Feelings, Campaign Manager, RPI, Hannah McCormack, said: "We're privileged to be partnering with Zurich for Phase Two of the Tackle Your Feelings campaign and to have a number of ambassadors from all the provinces to support us. Our research has found that of people from Munster, have themselves or know someone who has experienced issues around weight issues (48%), depression (49%), money problems 52%), sleep problems (44%) and low self-esteem (46%), which in turn can negatively affect our sense of mental well-being. The research also highlighted that people need support maintaining their mental wellbeing when it comes to relationships, sleep, confidence and happiness, all of which are features on the Tackle Your Feelings app and website. Almost half of people from Munster (44%) said they don't have a team or support network in place to help their mental wellbeing. Our tools aim to empower people to take proactive steps towards managing their mental wellbeing and learn when they may need to seek external support. There is also a chance to become part of the TYF community, with the hope that members will eventually contribute to the website. They can also keep up to date on the latest Tackle Your Feelings news at the new Tackle Your Feelings Instagram page."
A number of features have been enhanced and further developed from the previous Tackle Your Feelings App including: a general and personal locker, a goals locker, the ability to write and record notes and the wellbeing indicator test. An expanded "test centre" will allow users to measure different aspects of their mental wellbeing which can be tracked in their personal locker. The new totally revamped website will be constantly updated with new information, the user's information will be interchangeable between the app and the website and there will be a section where registered members can post to and become part of the Tackle Your Feelings community.
Once users have registered, they will be able to switch between the website and the app without losing any saved resources and will be able to access personal and general lockers.
For more information on Tackle Your Feelings follow the new Instagram account @tyf or visit the website www.tackleyourfeelings.com which will share videos, updates on events and competitions.