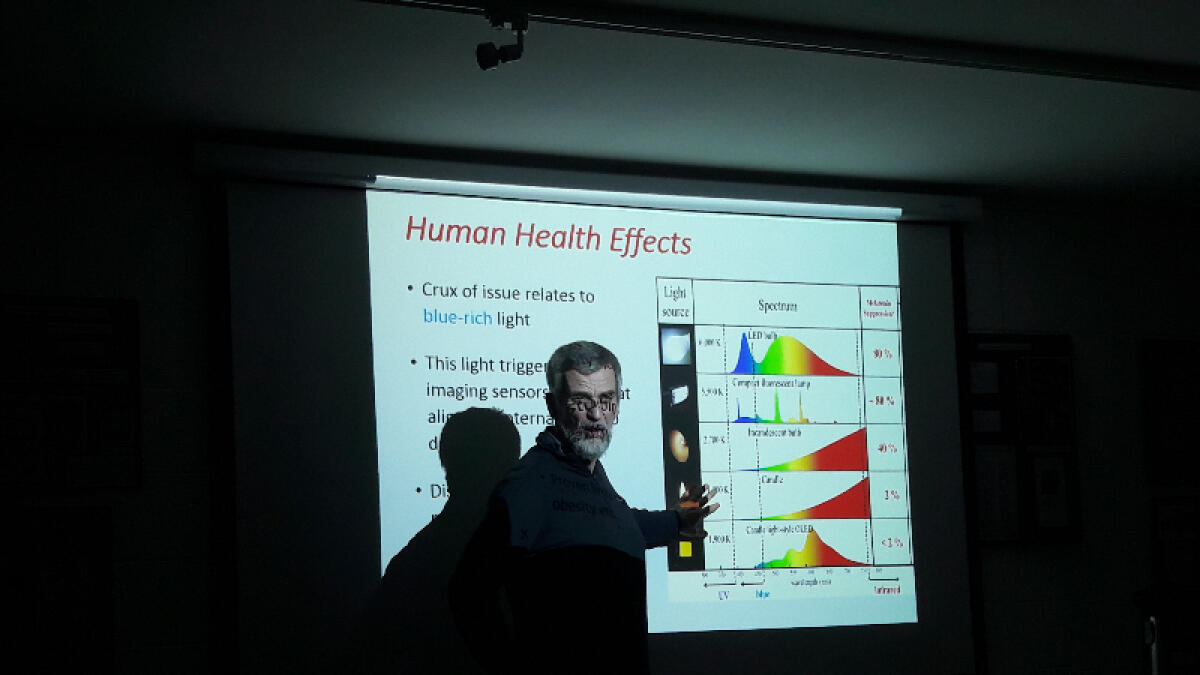 Light pollution talk in Cloughjordan
A large crowd gathered in the Thomas McDonagh Heritage Centre in Cloughjordan on Monday February 27th to hear Trinity College Dublin Astrophysicist Dr Brian Espey deliver a talk on light pollution.
Dr Espey is one of Ireland's leading experts on appropriate street lighting. "The ecovillage part of Cloughjordan currently has almost no street lighting, however this may change," explained Mary Meighan of the Dark Sky Group Cloughjordan. "In advance of any possible change, we felt it was important to get better informed on the impacts of the different types of street lighting. This was the prompt to bring Dr Espey to Cloughjordan."
The talk covered a range of areas, including the economic cost to local authorities of wasted light, and the negative impact of inappropriate lighting on wildlife and human health.
"As a nation, we spend roughly €7 million illuminating areas that don't need it; reducing this would save us money and potential health problems, as well as be of benefit for the environment," Dr Espey emphasised.
He pointed to research from the American Medical Association and elsewhere, which associated excessive white LED light - especially light the blue end of the spectrum - with negative health and safety impacts. These include road glare and, in humans, cell mutations and eventually cancers. Much municipal street lighting in the US is now being changed because of these negative impacts, he pointed out. Nocturnal and migrating wildlife are also impacted negatively by "blue rich" white light.
Simple, small changes - in the direction of the light and type of bulb used - could have major positive impacts, the audience learned. Light at the orange end of the spectrum has far fewer negative impacts, as well as having an overall warmer feel.
The cultural benefits and tourism potential of "dark skies" were also noted. A clear dark starry sky is a canvas of awe-inspiring beauty - for locals as well as tourists. Growing numbers of visitors, especially to rural areas, seek out these areas for the increasingly unique vistas they offer. Internationally, and also in Ireland – in Kerry, Mayo and more recently Lough Gur - an increasing number of places are benefiting from the Dark Skies momentum. Already, in June of last year, Fáilte Ireland brought a team of high profile international tourism journalists to Kerry, which included a trip along the Kerry Dark Sky walk.
"Reducing light pollution makes sense for the environment, improves our own health, and also makes a positive difference in our own pockets - overall it'll cost us not to make a change," he concluded.
"The Dark Sky Group, which is based in Cloughjordan ecovillage, is exploring the possibility of becoming a Dark Sky Friendly Development of Distinction as an adjunct to sustainable living," said Gemma Brugha of the Dark Sky Group Cloughjordan.
She added: "Cloughjordan Dark Skies group are inspired by Mayo Dark Sky Park, and Kerry International Dark Sky Reserve, who have achieved Dark Sky accreditation. The Dark Sky Group is interested in maintaining the benefits of Dark Skies for star gazing, and to encourage the use of appropriate lighting for human health and biodiversity."
Following the talk, Dr Espey carried out sky quality monitoring with the Dark Sky group in the ecovillage.