Thanksgiving Mass for Fr John
'Exemplary service' to the parish of Toomevara
Previous
Next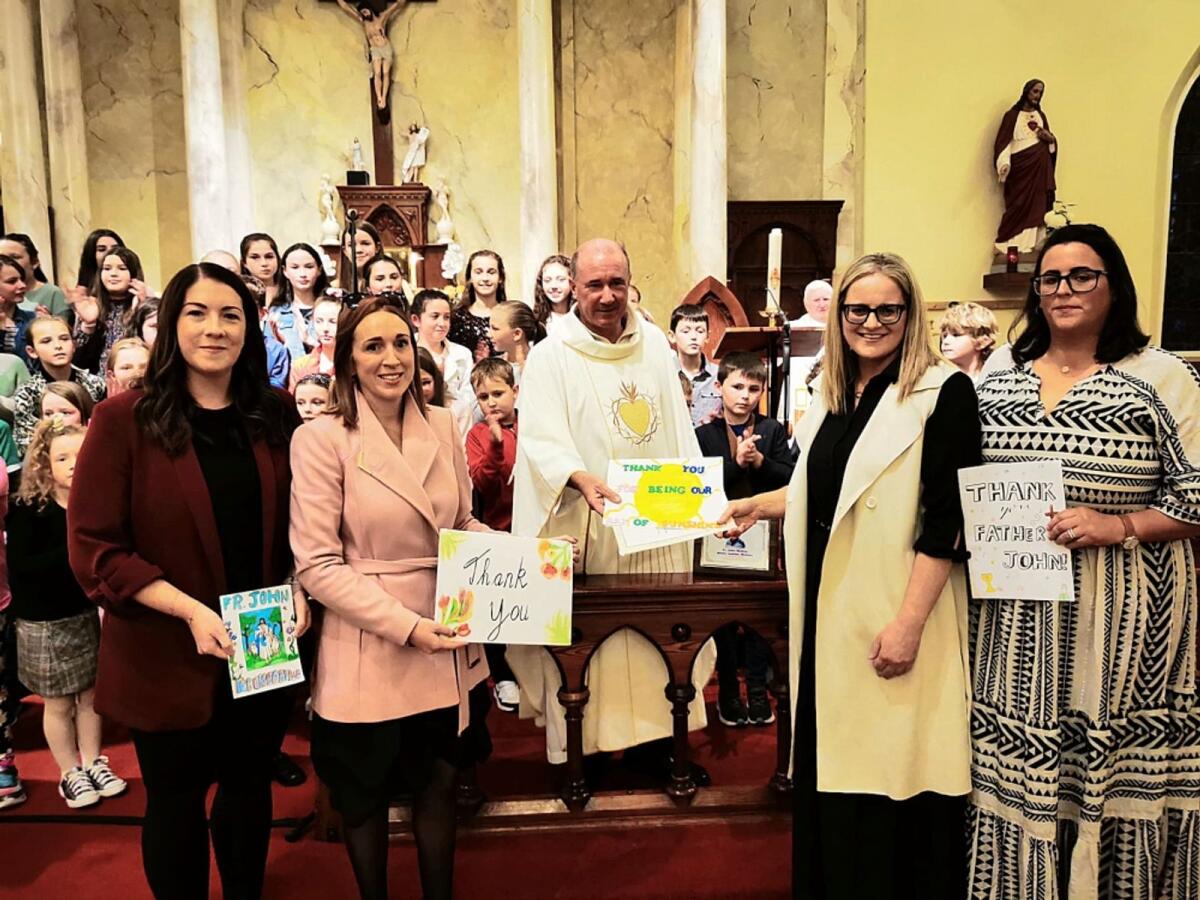 On Friday, September 23, Toomevara Parish celebrated a very special Thanksgiving Mass in honour of all the service Fr John Molloy gave to the parish and its parishioners for eight years.
The church was packed with adults, children and families, who all wanted to show their great appreciation to Fr John. The church was decorated with beautiful artwork done by the children from the four schools and on the altar was a special sacred space representing various facets of Fr John's ministry.
The ceremony was very uplifting with music from the adult choir, the children's choir and children's instrumental group. Approximately 100 children volunteered to take part in the Mass in some way, reading, singing, playing instruments and as altar servers.
Fr John had always made it a priority to call to the schools and to welcome and include children in every ceremony, especially sacramental preparation and Masses. One of the highlights of the night was the Children's Choir singing a new special rendition of the song 'Dreams' by the Cranberries.
Concelebrating the Mass with Fr John was Fr Francis Xavier, new Parish Priest in Toomevara and Fr Sheary, Fr McCormack, Fr Kennedy and Fr Moloney.
Bernard O'Neill, Chairperson of the Pastoral Council spoke after Holy Communion; he welcomed Fr Francis to the parish and gave a rousing speech on the dedicated service of Fr John.
"A number of weeks ago, we first heard of Fr John's move to Roscrea and since that time all I have heard from people all over the parish are expressions of shock and disappointment, but mostly praise and not one single negative remark about our much-loved Parish Priest over the past eight years. When Fr John arrived it became immediately obvious that we had a man that was truly devoted to a very active ministry in our parish. Always engaged, courteous, humble, kind and extremely generous. He touched so many lives with civility and wholesomeness that were truly noteworthy.
"His pastoral administration and preaching of the Word was truly engaging and his incredible ability to bond with the young and not so young in times of joys, troubles and all that everyday life throws at us. Fr John very quickly got to know everyone in the parish, and he was first on the scene to support, encourage and celebrate with parishioners anywhere in the country be it a wedding, funeral, a hospital or whatever.
EXEMPLARY SERVICE
"His attention and hard work in our churches, our graveyards and our schools was above and beyond the call of duty. He gave exemplary service in every facet of his ministry. We thought we had seen the best of Fr John but when the Covid pandemic hit us in 2020 this is when his light shone at its brightest. He continued to say Masses and do holy hours all alone in an empty church, going out on our parish radio into our homes. Come rain, hail, frost or snow he distributed the blessed sacrament to people out on the street or sitting in their cars. He continued to bring the blessed sacrament to the sick, the housebound and the lonely and he distributed it through open windows and half open doors and even over a few thorny hedges.
"His hard work and concern for others goes much deeper through his Mission work, in Peru, Ecuador and Mombassa. His many years of dedicated work has changed the lives of thousands of people for the better. He also encouraged many parishioners to volunteer for charitable events and trips.
"An elderly lady on the Tidy Towns committee in Ennis summed up Fr John the night we were there on our parish pilgrimage, she said: "What I love about Fr John is that he gets an awful lot of work done with a lot of fun.
"He made each Sacramental ceremony so personal and special for the children and their families and always encouraged active participation so that as many as possible could be involved. We thank him for his encouragement and support always. We wish him every blessing and success in his new parish."
The ceremony ended with the congregation singing one of Fr John's favourite songs 'Any Tipperary Town'. Another song that featured was 'Dreams', by the Cranberries, to which new vocals were added to fit the occasion.