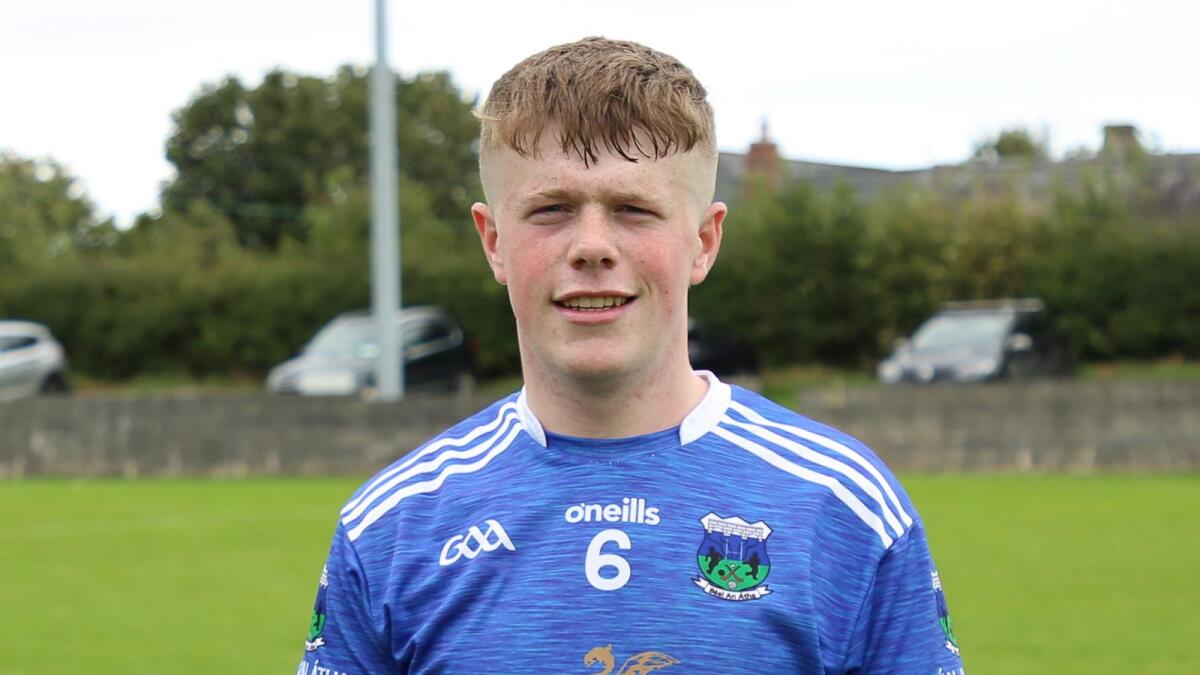 Ballina complete minor hurling and football double
GAA: North Tipperary Minor 'A' Football Final
Ballina 1-12
Inane Rovers 0-6
Report: Enda Treacy in Newport
MATCH DIGEST
Player of the Match: Josh Egan (Ballina)
SCORERS - Ballina: Josh Egan 0-4; Cathal O'Donnell 1-1 (0-1 free), Dara King, Daniel Tighe, Kian Donnelly, David Grace, Charlie King, Sam Loughran, Jack Grace 0-1 each.
Inane Rovers: Dylan Hogan 0-4 (3 frees), Aaron Delahunty, Jamie Ryan 0-1 each.
Ballina completed the North Tipperary Minor 'A' hurling and football double last Saturday when they clinched the football title with relative ease against Inane Rovers.

It's another north title for Ballina who are having a fantastic year at underage level and this team in particular have proven to be an impressive bunch as they put in another excellent display, particularly in the final quarter, to see them to victory.

With the game in the melting pot early in the second half with Ballina leading by just two points after 37 minutes, the Lakesiders kicked into another gear to outscore Inane eight points to one with a number of players contributing on the scoreboard.

As both sides had no competitive action coming into this final, it took both sides a while to get into any sort of cohesion with a very slowly start a feature of the first half, as Ballina took a two point lead with ten minutes played through Josh Egan and Daniel Tighe.

Jamie Ryan had Inane off and running a few minutes later when he pounced on a mistake from a Ballina defender to gather possession and float over a lovely effort off his right foot from the 14-yard line.

That got the confidence flowing from an Inane perspective as they were causing problems for Ballina's full back line and they took advantage with two points in quick succession in the 16th minute through a Dylan Hogan double (1 free); Aaron Delahunty furthered that advantage just after the water break to give Inane a 0-4 to 0-2 lead.

Ballina were very lateral in their play and this was giving their opponents easy defensive structure but they changed that in the 23rd minute when Sam Loughran found a killer hand pass to Cathal O'Donnell who moved through the Inane defense like a bullet and finished high to the net to give Ballina the lead.

Josh Egan's point in the 26th minute meant Ballina finished the half the stronger and despite not playing to their full potential, they had a 1-3 to 0-4 lead with the second period to come.

That strong finish to the first half seemed to rouse the Ballina players and they looked a lot sharper and began to dominate after the resumption, Dara King slotting over a nice score off his right boot to further the lead.

For Inane, the ball was struggling to stick inside in the forwards as Ballina were taking over in terms of possession, but they kept in touch with a Dylan Hogan free from close range after Conor Phelan was brought down near to the goal. Unfortunately, this wasn't the beginning of the Inane revival as Ballina began to show a different level of play to their opponents, as Cathal O'Donnell produced a lovely pass to Josh Egan to slot over and continue to build the Ballina lead.

Inane had a huge chance to get themselves back into contention soon after, when Conor Phelan found himself one on one with Adam Fogarty, but the big number one made himself big to save at his feet and scupper the Rovers man.

From here, Ballina didn't look back and they looked like a team that had more unity about them after their hurling success weeks previous, and further scores from in the lead up to the second half water break from Kian Donnelly, David Grace and Sam Loughran gave them a commanding lead of 1-9 to 0-5 with the final quarter to play.

It was exhibition stuff from here as the bench was emptied on both sides with the result more or less confirmed, and the Ballina bench made a good impact in the final minutes with Jack Grace making a good impression as he slotted a late free to confirm Ballina's dominance and victory.
TEAMS - Ballina: Adam Fogarty; David Coughlan, Mark Lyons, Jack Collins; Shane Kelly, Dara King, Daniel Tighe; Sam Loughran, Josh Egan; Kian Donnelly, Matthew Power, David Grace; Charlie King, Cathal O'Donnell, Braoin Cleary.
Subs: Jack Grace for D Grace (43); James Power for Cleary (53); Adam Power for Coughlan (53); Brian Bourke for Collins (58); Conor Meagher for C King (58).
Inane Rovers: Joe Brooks; Nathan Cummins, Nathan Carroll, Lee Doran; Sean Hartnett, Luke Seacy, Conor Phelan; Conor Shanahan, Conor Donovan; Dylan Buckley, Kenny Lee, Jamie Boland; Jamie Ryan, Dylan Hogan, Aaron Delahunty.
Subs: Darren Doyle for Boland (44); Michael Fitzgerald for Hartnett (53); John Donovan for Buckley (53); Josh Moriarty for Cummins (59).
Referee: Christy McLoughlin (Nenagh Eire Og)